Door Hardware Brisbane
Door Hardware
Door hardware refers to "accessories" often needed to complete a fit out. Items such as push/ pull handles, kick plates, door vents, door stops, hinges and closers are usually added in a commercial situation and are often need to meet fire regulations and building specifications.
Large scale supply of door hardware is well within the expertise of BLA locksmiths. We have supplied commercial quantities to large projects throughout Brisbane and are large enough to offer competitive pricing while being small enough to give personalised attention to your fit out.
Door Closers
---
Door closers are the silent heroes of the door hardware world and are essential part of sound building security and fire safety.
Day-to-day traffic can not be relied on to close a door securely after passing and a door which never closes is never locked.
Door closers can be pneumatic, hydraulic or mechanically driven and come in a broad range of weight and power rating ratings, fire ratings and optional functions such as hold open and back check.
It is important that your closer meets fire regulations and is the correct weight rating for the door. Too small and the closer will struggle to close the door, too big and it may snap the door closed too fast or even rip the door of its hinges!
Specialised closers are needed for oversized doors, glass doors or just for that seamless look.
One specialised closer most of us will encounter almost every day without knowing it are Transom Closers. These closers are hidden in the head of the door and door jam, they are completely concealed and are used in glass doors, oversized and commercial applications.
Transom closers are usually fitted during construction and can be intimidating to service, many Locksmiths shy away from this kind of work as the entire door needs to be removed.
The technicians at BLA locksmiths are well versed and carry the right equipment to remove your problem door and adjust or replace your broken closer, speak to our experienced staff to arrange a quote and discuss an approach which minimises disruption to your business and work flow.
---
Panic exit devices
Normal exit locks can sometimes be difficult to operate, especially during panic or emergency situations where large numbers of people may be gathering. If suddenly a large group of people need to exit an area or venue quickly normal exit devices may slow the exit process or even leave people trapped on the wrong side of a locked door.
Panic exit devices or crash bars are designed to ensure that large groups of people exiting a building in an emergency situation are able to do so without becoming stuck behind a locked door. With their simple pressure pad set up, any force applied to the bar from inside will allow the door to open outwards.
This style of panic exit device can be operated easily by a large group of people moving through an exit pathway allowing free flowing egress from the building and the dangerous situation that may be occurring inside.
Panic exit devices can offer more for security than just emergency exit advantages. Often used to secure over size or large doors, panic bars can incorporate three point locking with the added addition of vertical rods which provide multiple latch points at the top and bottom center and in some cases hinge side for the door.
With the addition of an external cylinder and well selected door closer, a properly installed panic exit device can provide a full entry and exit security solution to any door or gate no matter the size or weight. With many different finishes available including powder coated steel, aluminium and stainless steel, there is a panic exit device to fit every application, environment and budget. Speak with BLA locksmiths today to size up the right exit device to suit your application.
---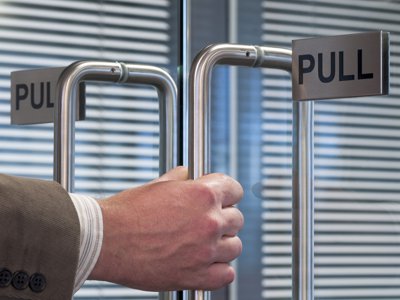 Accessories
---
Door hardware and accessories ensure your doors are easy to use and gain entry and exit to, choosing the right accessories can make sure your security hardware is perform at its full potential. With a wide range of accessories, different brands, shapes, styles and finishes BLA Locksmiths will specify supply and install everything you need to get your doors working correctly to best suit the application.
BLA Locksmiths can supply and install:
Push and pull handles
Latch guards and blocking plates
Fire, smoke and acoustic seals
Door stops, catches and chains
Standard and braille signage
Hinges and hinge pins
Door viewers